Search Results
Your search for Attend workshop returned 14 categories and 8 items
Pages
Items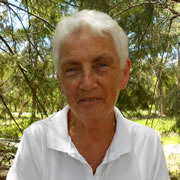 Tellington TTouch® Instructor for Companion Animals, Andy incorporates her skills as a Motivational Dog Trainer and Feldenkrais practitioner in her teaching.

In the late 1980's Andy attended an evening demonstration of TTEAM® , the original name for the Tellington TTouch® Method. The TT® ouch presenter did not touch a person or an animal, but had participants pair up and gave direction from the floor. At that stage. Andy was ready for a change as she was uncomfortable with the way most others were training dogs and the Tellingon Method just felt right. Changing how Andy touched her own dog has benefited all the other animals that she has come in contact with from that day forward.

As a Motivational Trainer, Andy uses the Tellington TTouch® Method when she teaches Puppy classes as well as Teen and Adult classes. Andy teaches workshops and one-on-one sessions. While Andy mainly works with dogs, she is interested in working with other species and has had occasion to work with wildlife.

Andy's special interest is with animals that lack basic social skills needed to live in society as these animals can be reactive to many issues. The owners/partners find it very interesting how TTouch® , Ground Work and use of TTouch® Equipment can make changes that affect both the animals and themselves.

Andy lives just outside of Sydney, NSW, Australia. Contact her: ttouch@hbi.com.au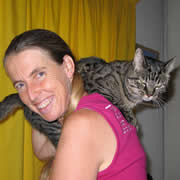 Lindy started riding at age 10 in Stellenbosch near Cape Town, South Africa. The majority of the horses were rescued racehorses with problems. She was always surrounded by animals and her parental home was never without at least two dogs and two cats. She was given a rescued donkey in 1967 and had him for four years.

After studying Biochemistry, Microbiology and Genetics at university, Lindy moved with her husband Rick to Johannesburg in 1979. There she changed careers to become a computer programmer, and she is still involved in doing support for a consulting company.

In 1987 Lindy reached her dream and acquired her first horse 'Babyshoes' (ex-racehorse TB gelding) who stayed with her for nearly 21 years. Lindy has competed in dressage to Elementary level. In March, 1999 she attended a Natural Healing course for animals that included Reiki and Aromatherapy as well as an introduction to the Tellington TTouch® Method. She started her own therapy business in 2000. In January, 2001 she attended her first five-day TTouch® workshop for horses and hasn't looked back. She has been organizing the Tellington TTouch® practitioner training clinics in Johannesburg since 2002.

Now Lindy is a Tellington TTouch® Instructor for Companion Animals and for Horses. Besides organizing the practitioner training clinics for the Tellington TTouch® Method for horses, she gives clinics as well as private consultations for both horses and companion animals while traveling to all sorts of interesting places!

To learn more about Lindy, visit her website, www.lindydekker.com.
Immediate and Cumulative Benefits from Tellington TTouch® Program Reflected in the EEG of An Anxious Mare

Robin Bernhard, LCSW, MEd, Sandy Rakowitz, Jessica Eure, MEd, EdS

Linda Tellington-Jones has created a gentle non-invasive system of bodywork comprised of specialized circular touches, lifts and slides that improves focus, balance and motor function, enhances learning and even promotes trust and communication amongst its users. Over the past 30 years, practitioners have seen both immediate and cumulative benefit from its use in training and healing animals and in healing the relationship between animals and their owners. After attending one of Linda's 5-day workshops in April 2005, I wanted to see if these techniques could help my injured mare to be comfortable while healing from a ligament injury and help us to improve our ability to communicate so that her balance problems under saddle would not degenerate into rushing out of control.
$399.00 – $699.00
Join Tellington TTouch Method Instructor, Robyn Hood as well as other guest instructors, and learn the next layer of TTouch skills!
Enjoy the logical, linear, learning of Online Learning along with the inspiring and adaptive format of 20 hours, small, LIVE, Zoom sessions.
This session can count as your next step towards Certification as a Tellington TTouch Practitioner for Dogs after completing a Level 1 course If you have attended in person "Hands On" Tellington TTouch Workshops, this course can be counted towards certification.
Register and gain access to an extensive, clearly laid out and detailed online course covering the material you would learn in at least two, 5 day hands on sessions. This course can be done at YOUR OWN PACE, before or after the LIVE sessions.
Beginning on November 26th, enjoy a 4 hour immersion sessions that will provide you with a new layer of detail and understanding, building on what you learned in Level 1, or at previous hands on trainings.
When we attend a TTouch training we arrive with excitement and wonder. The common bond that all of us share and the one that attracts us to Linda's work, is that we each believe, in our own way, that there must be a better way to be with horses, other animals, the people in our lives and with the world in general.

The knowledge learned from the Tellington TTouch Method for Horses work is accumulative. In the beginning, it seems simple and easy. As we continue year after year to learn more of Linda's shared skills, from clinics, workshops, CD's, and her books, we begin to see a complete metamorphosis in our approach to riding, training and in many ways, to our interactions with other people as well. At a time of such great need for balance in the world and in our personal lives, by becoming TTouch trained, we become part of the change.

Linda's life philosophy is woven like a rich quilt and openly shared at her clinics. During the daily lunch break she shares ideas about thought provoking books and theories that open all of the participants to see that we all have unlimited potential. For most of us, there is a recognition that horses can be our teachers.

At Linda's five-day clinics, many of us notice a personality pattern expressing itself as we work with our horses—our horses mirror this pattern back to us, many times it appears to be the root of the problem that we seem to be having with our horses, and yet it is a problem that we have in other aspects of our lives, too. The horses keep giving us an opportunity to not only get it right, but to get it better. At a recent workshop, there was a horse that was very pushy with its person. As the days went on, the person revealed how primary people in her life did not treat her with respect either. As she learned techniques to express her boundaries to her horse, she also had an awareness of different ways of being with humans in her daily life.

The work that Linda teaches at her clinics is far beyond horse training. Linda shares with her students the richness of her life journey with humans and with animals that she has finely tuned over the past fifty years. A woman always ahead of her time, she gently and humbly shares her knowledge with everyone present. The attendees at her horse clinics are of varied backgrounds from trainers, competitors, therapists, medical professionals, NARHA instructors, backyard horse owners and anyone with a desire to share with a horse in a more compassionate way. Whatever a person's knowledge base is, Linda has a way of speaking and sharing examples directly so that they are easily understood and absorbed.

The variety of touches, leading positions, special riding equipment and connected riding techniques offer everyone something new and thought provoking to encourage and stretch skills, from professional trainer to horse lover. A questionnaire was sent to participants from a recent clinic. Christal Bannister, a massage therapist, answered, "I learned to touch a horse (and people) in a new way. I learned how to be soft and effective with the touches. I learned also how to be direct, observe and to give clear signals."

The TTouch method offers us possibilities of dealing with our horses in an entirely different way. The depth of Linda's work supports humans in continuing to unravel the myth of domination and ignorance in our relationship with our equine partners. When attending a five-day workshop, it is truly joyful to see horses and humans develop new ways of interacting together. In western civilization where horse ownership, racing, showing and winning have guided most peoples training background, it is so refreshing and important that we now have a choice.

Because of work like Linda's Tellington TTouch Method, we have an opportunity to see, to learn, to try and to succeed in improving the lives of our horses and at the same time improving our lives as we see that compassion, listening, honoring and thought out techniques are available to everyone. An attendee at a recent clinic, Kathleen Aspenns wrote, "I really like seeing Linda work with challenging horses---to see what to do when they don't like the first ten things you try---keep trying something different. Linda's work in heartfelt—I absolutely love her respect for and her communication with the horses. It inspires me to be a more compassionate person."

Linda and all the Instructors, support each student and help all of them to embark on their own journey filled with all of the skills that she can possibly share. TTouch work is not only about changing the way we deal with horses, it is about changing the way we see, hear, listen and deal with our lives . . . changing the way we are with each other, one horse, one person at a time.
"This line of work has opened up a new world of alternative training which is sympathetic and supportive to the horse. The results were outstanding and immediate."
– John
"TTOUCH has awakened me to a whole new (wonderful) world. I feel things and look at things (animals, people, etc.) in a renewed and understanding way. I myself feel different too. When in a situation I handle it much differently than before. I have stopped blaming the animal/person and begun to search for the real cause of the problem."
– Sharon Crement
"A novice can do the Tellington TTouch Method It's easy to make changes very quickly even for a novice person that doesn't do the work as effectively as an experienced person. It's not necessary to know the work perfectly.
"It's truly amazing to be able to make changes in an animal's behavior, physical being or mental state, and have a reciprocation take place. For every animal I see being helped by TTouch, I always feel I have learned and changed in the process as well."
- Amanda L.
"The Tellington Method teaches me to be a partner with my horse so I can learn to be a team. It gives me the tools to LISTEN, OBSERVE, COMMUNICATE and then give back information to our animal friends so that they can teach me to become more effective. TTouch brings joy to my horse and me."
– Amy Kendis
"This workshop has totally changed the way I view myself as a partner to my horse, our relationship and the relationship of the people and horses around me."
– Whitney Knauer
"The evening the clinic ended, my daughter was riding her Appaloosa mare (not at the clinic) in a drill team practice. The horse was a bit antsy and would not stand quietly. Rather than disciplining her as I have in the past, I spent a few minutes doing mouth work and some touches along her neck. She settled down immediately and stood quietly."
– Denise Schoenladler
"Thank you for the marvelous lessons, ideas and awareness you've brought to my life. My animals, family and I appreciate what I've learned from your lessons, patience, carefulness etc. I enjoy meeting new horses and watching, reading and understanding them because of what I've learned from 'Getting in TTouch' and being able to help relax, soften and relieve tension from horses whose caretakers haven't had the chance to study and use your methods."
– Terri Rexroad
In October of 2008 I taught my first one-day TTouch for You and your Horse workshop at a therapeutic riding center on the outskirts of Vienna. The morning session with 100 participants was staged in a spectacular castle that reminded me of the Sound of Music and in the afternoon we were in a riding arena surrounded by green pastures and mature forests.
In the morning session I lead the group through of the basic TTouches and they practiced on their own bodies and paired up to explore TTouch pressure and tempo. Toward the end of the morning session one of the participants stood up and asked if she could tell her story to the group. Her name is Johanna Hershmann and her story was remarkable. Twenty years ago she attended a two-week TTouch training that I taught near Vienna. In the ensuing years she had TTouched her horses when they needed it, and occasionally her sheep and had kept up a little with some of the German TTouch newsletters published by Annegret Ast.
Last spring, her husband, Hermann was diagnosed with a very aggressive form of brain cancer that had spread to other parts of the body. One night in April he awoke in unbearable pain. The medication was no longer effective and he begged Johanna to help him. Miraculously the pain reduced with gentle TTouches and she had been TTouching him daily for the past five months. She drove two hours from Graz just to tell me that he has been off medication and pain-free since that time and asked if they could have a session with me to give them some additional tips.
The following day they drove from Graz and Tanja Lasser (a TTouch for You Practitioner) and I spent three hours with them; observing the TTouches Johanna had been administering, marveling at their story and their love, and amazed at Tanja's cat, who spent much of the time on the table curled up against Hermann's head, giving him much-appreciated comfort. I was amazed that after so long, with no further instruction, Johanna had TTouched Hermann beautifully and effectively, with two-pressure and two-second circles. The agreed to allow Martin Lasser to film the session thinking their experience could perhaps give help and hope to others.
Just as I was ready to send the last edit to Robyn I received this email from Tanja: "I just called Johanna. They are on a good way and something wonderful happened. Before they left our home in October, I got an inspiration for a herb for Hermann which could help and I told Johanna about it. Two weeks later Johanna received a present in the mail from a gril-friend from Germany with the same plant to make the tea I had recommended. Johanna was sure that these signs were from Hermann's guardian angel. When she started to give him this tea for few days he had chemo-therapy symptoms. But then it changed. She also found a doctor who helps now to support his recovery with herbs. She still does a lot of TTouch on him and he does not need "Windeln" any more.
She also told me that their relationship changed a lot with TTouch and he trusts her and they have now a deep connection. When some pain starts and she has time to TTouch, soon then the pain reduces. She thinks he is on a good way and he also stopped smoking. We have a wonderful photo with Hermann and our cat. Johanna asked me if she could have one because Hermann loved Flecki so much
TTEAM News International October, 1989 Vol 9 No 3 Pp. 21-23

Bonnie Lieuwen of College Station, Texas attended a workshop with TTEAM Instructor, Copper Love who encouraged her to write about how she had been using TTEAM in her special education classroom.

FOCUS: As a special education teacher I am most concerned with my students increasing their focusing skills. As we all know, if a person can focus & concentrate their focusing skills then they can expand academically, emotionally, socially, and physically. Sort of like a snowball effect, expanding in their skills, independence, and self-esteem. In my thirteen years of experience, this was the first year that I taught at the elementary age level (ages six - ten). Due to the students' handicaps, young ages, and extreme amount of energy, focusing was not one of their strong qualities. I tried many different techniques to increase their focusing skills with very little growth for the effort that was expended. It was not until I began using some TTEAM techniques that I started to see notable growth.

Other areas that I saw results from using TTEAM with the students were: body-awareness/use/carriage, relaxation, and decrease in hyperactive behavior. Increase in socialization, increase in behavioral self-control, increased awareness of self, others, and the environment, increase of following directions skills, decrease in aggressive behaviors, increase of willingness and enjoyment of being touched and touching others, the skill of waiting, increased feelings of acceptance, increased feelings of bonding and trust between student and teacher, and more I'm sure.

In special education there are so many variables and different specialists that work with these children (speech, adaptive p.e., physical/occupational therapists, counselors) and everyone has good input into the growth of these children. It is always difficult to pinpoint the most effective techniques and many times it is a combinations of everyone's input. But I do know that when I began using TTEAM, I began seeing exciting changes and other people (plus parents) were reporting these changes too. I will not be working with these students next year so I will have no idea of the lasting effects in their growth. Please remember these are only my observations and feelings. It is my gut feeling that TTEAM had a crucial positive effect on these children.

In the following paragraphs I will briefly tell you about the TTEAM activities and adaptations I used and the five students that received the most TTEAM energy. The time span was about two months, but not on a daily basis. In fact I found myself becoming very frustrated that I did not have the time I wanted to spend doing TTEAM. I saw the benefits and ached with the thought "if I only had more time to spend individually with each student."

In a school setting I thought it might look odd to use my horse wand so I substituted the wand with a drum major's baton. I found it worked well because it has the two white rubber ends and I could remind the kids to look (focus) at the white tips (we called then marshmallows). There are many stick things that would work well (is conductor baton, a painted stick, etc.) I just happened to have the baton.

With the baton we did:
open the gate
walk, turns, backward walk, run
wave to stop
dagger; this was especially for "J" who I will tell you about later.
Obstacles: I used sticks that were about 6 ft. by 1 inch (they were light weight and easy to arrange).
Labyrinth (varying the pattern)
cavaletti (arranged at different heights/distances)
star
the "pick up sticks arrangement
Other obstacles:
a tic-tac-toe design. I would use the baton to point to a square for the student to step into, this one worked very well for teaching them to focus on where the baton point, for increasing the awareness of space and feet placement, and for waiting in one place.
Box Lids. (I'm sure you have seen when stores cut in half, all the way around, a case of canned soda and each box part is about 2 inches high, well that is what I used). I would arrange the boxes on the floor in varying patterns and again I used the wand to point to the box I wanted the student to step into.
The boxes and tic-tac-toe were terrific for a group because I could direct one student and while the one student learned to wait in one space I could direct another, and so on. This really helped my students that were very compulsive in their movements, They had to think in order to control their bodies. It was a great exercise!

Other things:
Labyrinth - when the students became skilled in these (in the beginning they would plow right through the sticks, absolutely no awareness of the sticks or that they were plowing through) I made the addition of two labyrinth patterns. We used chairs with wheels and without. It was really neat to see the students expand from plowing through, to thinking their own bodies through, to having enough control to push a chair through the pattern.

Flashlight - After they had learned to focus on the baton I would sometimes use a flashlight beam instead of a baton. I would turn down the lights and shine the flashlight to direct them in the obstacle patterns. This is interesting: I had used a flashlight all year hoping to increase their focusing skills, but it was not until they had learned to focus on the baton that they finally were able to truly focus on the flashlight beam.

I did not get a chance to use the following ideas but I thought they might be good.
Rope: Take a long rope or several ropes to make varying obstacle designs.
Tires: Substitute the large tires (used with the horses) with bicycle tires or tubes, hoola -hoops, or some other light weight circular shapes.
Rag squares pattern.
Pulling a wagon
Varying the body movements through the labyrinth: while crawling, hopping and running.
And of course I used the wonderful "CIRCLES"!

Students: J., N. , K. , M. , C.

J. (10 yrs, he has a mental retardation handicap, very hyperactive) - when J. came to
my class in late October he walked with his shoulders hunched over, head down towards the ground, and his hands hold in a wrapped position on top of his head. His body language told that he was hiding within a shell. He did not talk, he only made a very occasional vocal sound (but he had Used words occasionally throughout his life). He was shy and withdrawn socially, would not focus on anything or anyone. He would not follow directions and when he was corrected on behavior he would fall to the floor with tantruming, crying and screaming. He frequently hit peers or tried to play too aggressively. He would often, just out of the blue, take off running away from staff. He was very hyperactive and easily over excitable.

I tried many techniques to improve his posture, nothing had much effect. In the month of February I tried doing circles on his shoulders, neck, and back. These areas were extremely tight, by my feel and by his own reaction. It was interesting that while doing the circles he would lower his arms but they would return minutes after I stopped doing the circles. Daily I did circles on his shoulders, back, and neck and daily the length increased that he would leave his arms down. At the end of March, after I had attended a TTEAM clinic, I began increasing circle time/ body areas and incorporating TTEAM activities. With the increase of TTEAM I began to do, J. really improved in all areas. His major growths were truly observable by the end of May. He walked upright, hands down with only an occasional verbal reminder, he learned to walk and stop which greatly helped staff because it decreased the number of times they would have to run after him. He made great leaps in his ability to focus and attend to tasks, and he began using words to state his needs i.e. water, bathroom, ball, play, others' names, bus, etc. Socially he became more aware of those around him and he was interacting non-aggressively. At lunch time all my students had a regular education student for a lunch buddy. Each of my students would sit with their lunch buddy at the lunch buddy's class table. Daily I watched J's interactions with the lunch class/ buddy become more calm and appropriate. He became more calm/relaxed and he definitely increased his ability to follow directions and to accept correction calmly. I feel sure the TTEAM obstacle activities had a great effect on his self-control, focusing, increased awareness of' his environment, and the decrease in his compulsiveness. J. loved the circles so much that he would take my hand and show me where he wanted circles, he also would try to do circles on others. It was a total joy to watch the growth he was making.

N. (6 yrs. mental handicap, slight degree of' cerebral palsy). M. had extreme baby behaviors: he refused to follow directions by excessive tantruming, hitting, spitting, crying, and throwing himself on the floor. He was extremely dependent on others to do things for him. Very low focusing abilities and very short attention span. When N. first came to my class in October I thought if this child learns to remain in his seat for five minutes it will be a miracle. Well N. passed that goal up by far. He made wonderful progress with a lot of physical guidance and verbal direction. He had already come a long way when I began doing TTEAM with him in the end of March. And once again I don't think it was coincidence that this student began to make progress more rapidly when I began the TTEAM. N. resisted the circles at first so I had to stick to the 'flick of the bear's paw" for the first week. After that he was very receptive to the circles and by the end of May he would ask for circles. I feel that N. made a lot of emotional progress in body awareness and use. It's as if he had discovered his body and its movements. N. also grew in independence and in following directions. I could see him improve and feel good about the TTEAM obstacles and learning these simple task directions seemed to carry over into following directions in other areas.

K. (7 years. Learning Handicap, hyperactive). K. was my speed student. He sped through everything just to get it done. His focusing ability was very poor. K. was in my room only in the morning so the only TTEAM I did with him was the Circles and the baton, open gate, walk, stop. I feel this greatly improved his ability to slow down and to focus. I would also let K. run in a circle around me plus focus on the baton and verbal directions. This seemed to be effective in releasing his excess energy, increasing his focusing, and increasing his following direction skills. K. seemed to react to the circles very emotionally. Some days he was very resistive to the touch. He was a child that did not feel comfortable with touch. Several times after I began circles on him he would have crying episodes (not within the circle session, but at later times). I took the circles very slowly with K. in case they were causing the crying. In time he became more receptive to the circles and the crying episodes ceased.

M. (10 yrs., Mental retardation handicap, very cerebral palsy, Used a walker to walk). M. came to my class the last month of school so he did not participate in a lot of' TTEAM. I observed some progress that I feel was a result of TTEAM. M. was not happy in our class when he first came. He had recently moved from another town where he was very happy in his class. I feel the circles helped him feel more trusting and bonded in our class at a more rapid speed than he would have without the circles.

C.* (9 yrs., regular education. student that was placed in my classroom due to severe emotional and aggressive outbursts within his regular classroom. C. is very intelligent, creative, and sensitive.) A teacher's aide worked with him in a partitioned off area of my classroom. I worked with him for 30 minutes a day. We worked on social/personal skills, breathing, guided imagery, and of course CIRCLES! C. loved the circles, especially on his face. He told me the circles made him feel relaxed and peaceful. We used the circles many times when he was feeling upset. Every time he would feel better and refrain from inappropriate or aggressive behavior.

I hope that I have at least been able to cover the highlights of what I feel TTEAM did for my students. I'm not sure who benefited the most from TTEAM - my students or me. I do know that now I have seen the benefits with my horses, with my students, with myself and I thank you for sharing TTEAM with the earth.

NOTE: TTEAM is an acronym of "Tellington TTouch Equine Awareness Method." Since this article was written, Linda decided to use a brand name for all the facets of the TTouch organization. Currently, that is Tellington TTouch® Training.