Next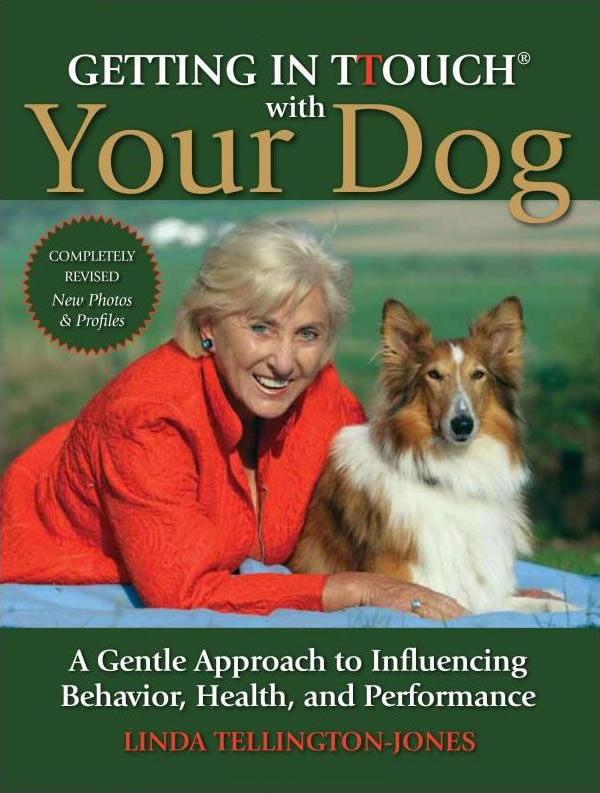 Getting in TTouch® with Your Dog
A Gentle Approach to Influencing Behavior, Health, and Performance - $16.95
by Linda Tellington-Jones
Hands-on help from one of the most caring and innovative animal trainers in the world today. This book is the key to a better quality of life for your dog.
The bestselling book from Linda Tellington-Jones is completely revised with new photos and profiles!
Paperback, 152 pages, color photos throughout. Publisher: Trafalgar Square, 2012.
Note! You can purchase this book as part of a set that includes the Unleash Your Dogs Potential video and the TTouch® cards for $39.95. (If purchased separately, these items would cost $55.85. With this set you save $15.90.)
When you think of your dog, what is the first characteristic that comes to mind? His smile, his gentle companionship, his good-natured bark when he sees a friend? Or, do you immediately think of his bad habits -- maybe his tendency to jump up on people, the accidents he sometimes has in the house, or the way he pulls when you go for a walk?

Change your mind, change your dog, is one tenet of Linda Tellington-Jones renowned Tellington Method. By thinking of your dog in perfect terms, you can come a long way in solving problematic behaviors, training for a joyful partnership, and ensuring his health and well-being. Add to this Linda's course in gentle bodywork, known throughout the world as Tellington TTouch, as well as specialized training equipment and obstacles in her Playground for Higher Learning, and you have gentle, proven ways to improve your dogs attention, willingness, and confidence.

This book not only offers a positive, no-force approach to training but also much, much more! Using a combination of specific TTouches, Exercises, and the Confidence Course (exercises over obstacles), a dog's performance and health are improved, common behavior issues are solved, and physical problems are positively influenced.