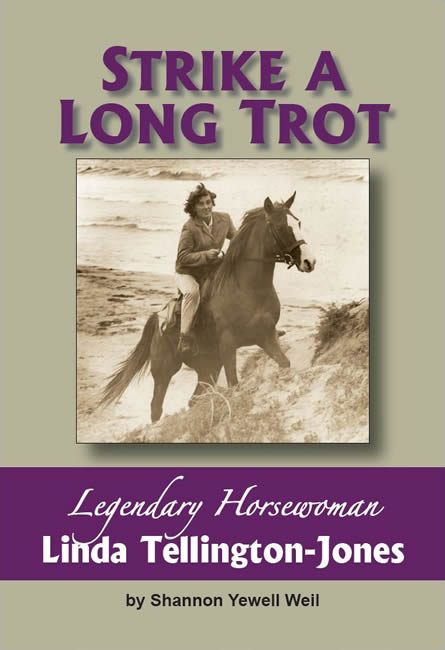 Strike A Long Trot: Legendary Horsewoman Linda Tellington-Jones
by Shannon Yewell Weil

This book chronicles the distinguished early equestrian career of Linda Tellington-Jones from endurance competitions at the 100-Mile Tevis Cup Ride to three-day eventing and steeplechasing at Pebble Beach.

Available in Paperback and Kindle, 9 x 6 x 0.8", 256 pgs, 240+ photographs

Learn more about this book
Linda proved to be a superb educator, ably guided by her then-husband and Cavalry officer Wentworth Tellington. Together they created the Pacific Coast Equestrian Research Farm and School of Horsemanship.

Linda's expertise was sought by a wealthy countess, and for years Linda prided herself in promoting the countess' Hungarian horses, once revered as the finest warhorses in Europe. The book tells a charming story about how Linda transformed the stallion Hungarian Brado from a U.S. Equestrian Team reject into a champion.

After decades of sweeping wins in multiple disciplines, Linda retired from competition to pursue a global career of making a difference for all species of animals. The result was a remarkable internationally acclaimed Tellington TTouch Training Method.