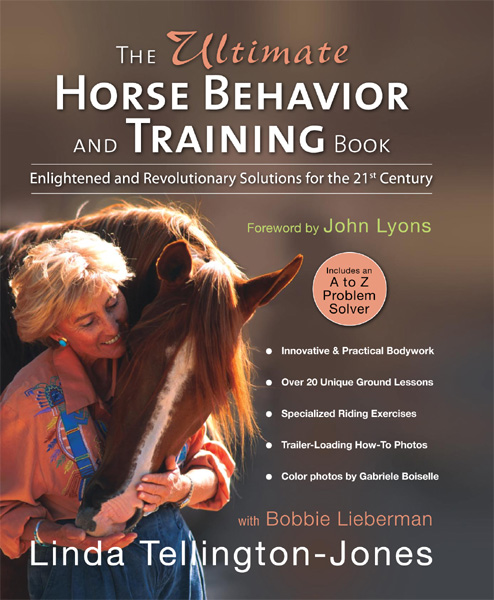 The Ultimate Horse Training and Behavior Book
The Ultimate Horse Training and Behavior Book: Enlightened and Revolutionary Solutions for the 21st Century

by Linda Tellington-Jones with Bobbie Leiberman

At last, the definitive work of Linda Tellington-Jones, including everything you need to learn and practice the worldfamous Tellington Method!

"This is a book destined to be on every horseperson's bookshelf."
—John Lyons

This book is the "encyclopedia" of TTouch® and has over 300 colored photos and many drawings. The book contains the philosophy of the work, more than 60 typical problems that horse-owners run into, complete descriptions with photos of all the TTouches, Ground Exercise, and Work under saddle, as well as 50 photographs of a trailer loading session with a yearling colt who had broken his withers in a trailer and had refused to load. Gabrielle Boiselle is the photographer with her special eye for horses.

Publisher: Trafalgar Square Publishing, 2006.
We have your Ultimate Horse Behavior and Training book and love TTouch, particularly the ear stroking technique that you used to stop a horse from colicking. We, in fact, used it to calm a blind horse who got a hind leg trapped in her blanket. It was truly amazing to see her breathing slow and her muscles soften so she could be freed. I, myself, and the other volunteers at the rescue would love to have more exposure to everything you do.

We have 75 horses on site and are one of the largest rescues on the West Coast. Most of our horses are yearlings to unstarted six year olds who were only minimally halter trained before coming to us.



Dear Linda and all your terrific staff,

Thank you so much for the TTouch training at Trailblazer Festival this last weekend. I am so happy to now have the tools to help Ming have a better, more comfortable balanced life!

I am a board member of the Los Padre Trail Riders in Santa Barbara and I got a call a couple of months back when I was on my way home from yet another exhausting jiggy trail ride.Tami asked me if I wanted to put Ming in the Linda Tellington Jones clinic and I had to laugh as I was so tired form the trail ride.

When I brought Ming, Linda got to see how Ming can be, never walking flat footed, jigging in place,spinning, circling, all the things a jiggy horse does. So for two days, we got to see first hand the TTouch and how to use the tools, the balance rein and even Linda riding Ming with NOTHING on his face and just the Liberty ring around his neck. Now I have a goal! Now I have the tools! This is so exciting!

With his saddle and pad adjusted,and the training bit and reins and balance rein, I discovered how my seat made Ming more forward. And when he went forward, I would clamp down with my legs which drove even more forward! I bought the Ultimate Horse Behavior and Training book and looked up jiggy, so under Jiggy/ Joggy, I have a list of TTouch and ground exercises I can do to break this pattern we have both developed and that had become a never ending circle.

So thank you all once again, I am looking forward to letting you know how much success we have in our new venture together.