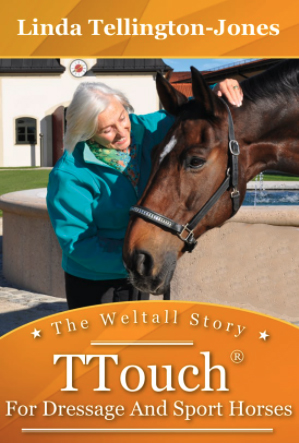 Tellington TTouch® Method Virtual Learning Center: The Weltall Story
The Weltall Story - a Two-Part Video. The information in this video can be applied to all horses. Also to your companion animals. Even you can experience the benefits of TTouch.

Linda Tellingtont-Jones and Massimor DaRe, DVM demonstrate the Telllington TTouch techniques step-by-step in a way that you can apply to your own horse.
The video tells the story of Meggla's Weltall who won ten Grand Prix dressage classes in his 16th year. Magla's Weltall was 16 when Linda was asked by Olympic gold-medal winner Claus Balkenhol if she would work with this horse, a favorite of Maina and Toni Meggla. Weltall had won a gold medal in Grand Prix dressage at nine years-old but was so nervous when the Meggla's bought him that he had not won since his Olympic debut.
Available in English. Purchase here: Weltall Story