Magazine Articles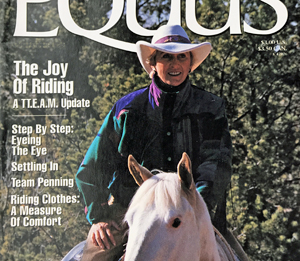 Linda and the Tellington Method have been featured in publications that post their articles online.
The Tellington TTouch® Method recognizes an inextricable link between posture, the nervous system and behavior. It uses a system of gentle, non-habitual movements on and with the animal's body, including the skin, to promote relaxation while improving awareness, physical balance and movement. The non-invasive TTouches elicit profound changes in an animal's emotional state and relieve tension and anxiety. When clients use TTouch® at home, and your staff also uses it in the clinic, counterproductive stress responses are minimized and trust is built.
Read the article on Innovative Veterinary Care
Many articles about Linda and Tellington TTouch® are in the online magazine Equine Wellness: Your Natural Resource
Equine Wellness Magazine
A calm, relaxed rider leads to a calm, relaxed horse. Here, top trainer Linda Tellington-Jones gives you in-saddle relaxation tips that will help you build trust with your horse.
Read more on EQUISEARCH