Interactive & Online Supporting Aging and End of Life for Dogs: Applied TTouch
December 2

-

December 2, 2023
Live Interactive & Online
$130.00 – $179.95
Join Sage Lewis (Tellington TTouch® Senior Practitioner) on December 2nd for this exciting new format of learning and sharing. The live sessions run 10 am – 3 pm MDT/Arizona time.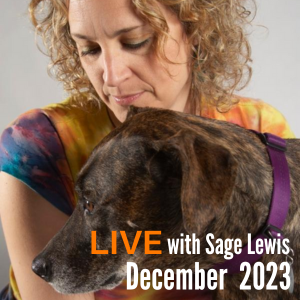 Animals touch a special place in our hearts, and there are some beautiful ways to give back to them during their aging and dying time.
Join Sage Lewis (Tellington TTouch Practitioner) of Dancing Porcupine for a touching, heartfelt and informative introduction to animal hospice, and how Tellington TTouch can support this tender transitional time.
You will learn a variety of tangible tips to help care for your animals and care for yourselves through living, aging and dying."
Enjoy the logical, linear, learning of Online Learning along with the inspiring and adaptive format of small private, LIVE, Zoom sessions.
Register and gain access to the Tellington TTouch for Dogs: An Introduction. This course is not specific to senior dogs and ageing but will provide you with a foundation for the specific exercises and techniques that Sage will teach during the live stream. The online course can be done at YOUR OWN PACE, before or after the LIVE sessions.
The LIVE class schedule runs for 5 hours, December 2nd, with a mid-day break and mid-class breaks. The class is small and allows for individualized advice and attention. Class runs from 10 am to 3pm.
This course can count towards the Tellington TTouch Practitioner certification program for dogs. It is also suitable for dog guardians who are interested in the method to enhance their relationship. All levels of experience and areas of interest are welcome.
Students will have access to online material to cover at their own pace. The online portion of learning consists of a logical, linear, introduction to the Tellington TTouch Method for Dogs, which can be accessed at any time.
visit this website
for more info