Interactive & Online Tellington TTouch® - Level 1
October 8

-

October 31, 2023
Live Interactive & Online
$399.00 – $699.00
Join Tellington TTouch Method Instructor, Lindy Dekker and gain a foundation of TTouch skills!
October 7th, 8th, 10th, 17th, 24th and 31st.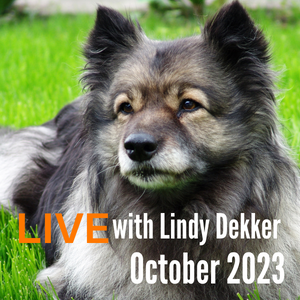 Enjoy the logical, linear, learning of Online Learning along with the inspiring and adaptive format of 20 hours, small, LIVE, Zoom sessions.
This session can count as your next step towards Certification as a Tellington TTouch Practitioner for Dogs this course can be counted towards certification.
Beginning on October 7th, enjoy a 5 hour immersion session that will provide you with the tools to help your dog feel and be their best.
Between sessions you will work on specific skills and assignments, if you are working towards Certification. Sessions are recorded for future viewing or should you have to miss a live class. Each session will be taught by Robyn or another one of our wonderful TTouch Instructors.
Schedule:
Saturday October 7th from 10.00 – 15.00 hrs or 10 am – 3 pm CET
Sunday October 8th from 10.00 – 15.00
Tuesday October 10th from 18.30 – 21.00
Tuesday October 17th from 18.30 – 21.00
Tuesday October 24th from 18.30 – 21.00
Tuesday October 31st from 18.30 – 21.00
Enjoy the comforts of home, with your animal at ease, in this small, intimate group setting. Lindy will help coach you through specific concerns you may have and give you the tools to enhance your dog's well being.
This course can count towards the Tellington TTouch Practitioner certification program for dogs. It is also suitable for dog guardians who are interested in the method to enhance their relationship. All levels of experience and areas of interest are welcome.
Students will have access to online material to cover at their own pace. The online portion of learning consists of a logical, linear, "Tellington TTouch for Dogs – Level 1", which can be accessed at any time.
visit this website
for more info