Interactive & Online Tellington TTouch for Dogs: Intro
September 1

-

September 9, 2023
Live Interactive & Online
$189 - $239
Fridays September 1st & 8th – 5-7 pm CDT & Saturdays September 2nd and 9th: 4-7 pm CDT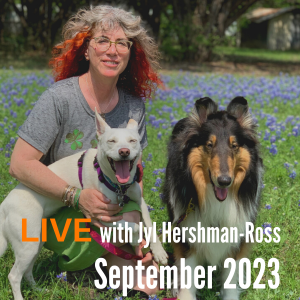 Join Jyl Hershman- Ross (Tellington TTouch Practitioner) and learn trust-based, gentle, effective and supportive dog training and handling techniques from the comfort of home. This includes 10 hours of live, virtual, group instruction and life time access to a self-paced online study course.
*This course counts as 10 CEU's for CCPDT, PPAB & NAODI as well as 6 credits towards becoming a Certified Tellington TTouch Practitioner.
This course is suitable for dog guardians who are interested in the method to enhance their relationship. All levels of experience and areas of interest are welcome. This approach integrates easily into positive dog training methods.
Students will have immediate access to online material to cover at their own pace. The online portion of learning consists of a logical, linear, "Tellington TTouch Method for Dogs: An Introduction", which can be accessed at any time.
visit this website
for more info