Interactive & Online Tellington TTouch for Dogs: Intro
November 10

-

November 11, 2023
Live Interactive & Online
$129.99 – $179.99
Join Jyl Hershman- Ross (Tellington TTouch Senior Practitioner), Friday, November 10 (5-7 pm CT) & and Saturday, November 11 (4-7 pm CT) and learn effective, mindful and positive ways to help successfully introduce a new pet into the home.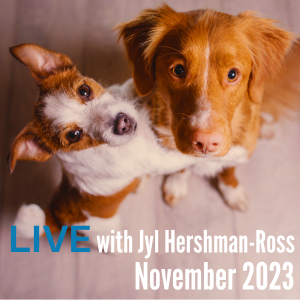 Are you thinking about adding another animal companion into your home, but worried about integrating that animal into your current pack?
Perhaps you have had a problem with pack dynamics before?
Or you just want to learn a little more about helping integrate shelter animals into new home?
Jyl will introduce practical and effective Tellington TTouch as well as common sense positive, reward based training techniques to help new and old pets live together.
Develop trust & communication and discover simple, gentle, and effective ways to help your dog become more comfortable, self-controlled, and cooperative.
You will learn how to:
➔ Interpret your dog's behavior in a non-judgmental way
➔ Notice a dog's subtle body language for signs of stress or relaxation
➔ Use simple, relaxing body work techniques to support your dog and your relationship and their role in the household with other animals
➔ Support your dog to reduce anxiety and enhance self-confidence in a new home
➔ Recognize and acknowledge how your own state of mind will affect your dog
This workshop includes:
5 hours of LIVE, interactive instruction via Zoom
Access to all session recordings for future review
Instant, life-time access to the online course, "Tellington TTouch for Dogs: An Introduction" for solid foundation of knowledge and accessible review opportunities.
Supportive Study Group Access
This course counts as 9 CEU's for CCPDT as well as 4 credits towards becoming a Certified Tellington TTouch Practitioner.
Register and gain instant access to an extensive, clearly laid out and detailed online course. This course can be done at YOUR OWN PACE, before or after the LIVE sessions.
During the LIVE Zoom sessions, Jyl will expertly guide you on how to adapt the Tellington TTouch techniques and exercises to your own specific animals and even your self!
The class is small and allows for individualized advice and attention. You will love the supportive, caring, community of animal lovers! This course is suitable for dog guardians who are interested in the method to enhance their relationship. All levels of experience and areas of interest are welcome. The Tellington TTouch approach integrates easily into positive dog training methods.
Students will have immediate access to online material to cover at their own pace. The online portion of learning consists of a logical, linear, "Tellington TTouch Method for Dogs: An Introduction", which can be accessed at any time. The online portion is not specific to integrating a new animal into the home but serves as a foundation for the techniques and exercises described in the live, interactive sessions.
The online portion of the course includes:
8 Lesson Modules: Each consisting of several specific topics.
Over 24 "how-to" videos and lectures about each specific concept and exercise
Easy to follow mind maps
24/7 – lifetime access to all materials
visit this website
for more info