Search Results
Your search for index returned 5 categories and 6 items
Pages
Items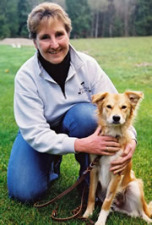 For as long as she can remember, Debby knew she would spend her life working with animals. She began to live the TTouch® philosophy of creative problem solving even before she had any idea this would be her life's work; she was extremely allergic to anything covered with hair or fur!

Of course she dreamed of having a dog. Her turtle named Herman and her canary, Tangie, were wonderful but it wasn't the same as thoughts of walks around the block with her very own dog. One day her parents learned that poodles didn't shed. Shoni, a silver miniature poodle, soon became her best friend.

Debby's interest in health and well-being was sparked by her childhood companion animals, and continued with her becoming one of Oregon's first board certified veterinary technicians. She grew up breeding and showing horses, which gave her an extensive background into working with many different breeds and disciplines of horses. A horse born with severe neurological damage initially brought Debby to Tellington TTouch® Training in 1984 after the veterinarians had done all they could to help the filly. The amazing progress Spirit made inspired Debby to use the Tellington techniques to improve the lives of animals and their people on a physical, mental and emotional level.

Debby's passion for helping people and animals in a fun, positive and creative way is evident in the many workshops and trainings she teaches every year. She has been a popular speaker at various international conferences including the Association of Pet Dog Trainers and the International Symposium on Rescue Dogs. She established TTouch® in Japan and oversees the Tellington TTouch® Companion Animal Practitioner Training there.

From the beginning, Debby has used the Tellington Method to help humans as well as animals. Today Debby frequently works with people to help them reduce pain, recover from illness or injury and to improve mobility and function. She finds the Tellington work and philosophy to be an important part of helping people to find balance and well being in their lives. She often says, "TTouch® isn't just what I do, it's who I am." TTouch® philosophy has strongly influenced her life and that of her family. Her two wonderful sons were raised with these concepts and often asked their mom for TTouch® when they had bumps and bruises.

Debby travels much of the year teaching trainings and working privately with individuals in North America, Europe, South Africa and various parts of Asia. She lives near Portland, Oregon with her human and animal family. For more information about Debby visit her website www.IntegratedAnimal.com.