Keep in TTouch®
Our free eNews keeps you in TTouch® with what's happening in our TTouch® community.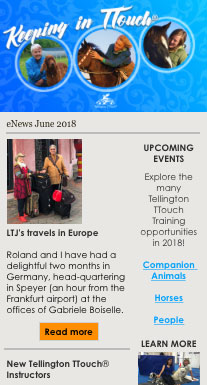 Our free eNews is designed to keep you informed about upcoming trainings and workshops, and to share news about the use of Tellington TTouch to assist you and your animal.

Topics include:
• Latest news
• Training tips
• Helpful articles
• Upcoming trainings
Sign up now - it's FREE!