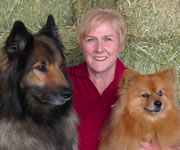 Robyn Hood
Senior Instructor of the Tellington TTouch® Method, Editor of Staying in TTouch Newsletter and Linda's youngest sister, Robyn has been riding horses since before she could walk. She went through Pony Club and showed as a junior competitor in Alberta. She later attended and then instructed at the Pacific Coast School of Horsemanship in California owned by her sister Linda Tellington-Jones. Robyn competed successfully in hunter, jumper, three-day eventing, endurance, western events and more recently in gaited horses.

In 1982 Robyn became involved full-time with the Tellington Method that was developed by her sister Linda. She has been the editor of the monthly Newsletter for more than 30 years. Since 1986 she has been teaching Tellington TTouch® Method on a full-time basis in Canada, the US, Europe, South Africa and Australia and spends about 160 days a year traveling. Robyn has given demonstrations and lectures at various venues including Spruce Meadows; Equitana USA and Germany; Western College of Veterinary Medicine at the University of Saskatchewan; International Humane Society Conference in Vienna and Murdoch University in Perth.

Besides teaching the Tellington Method on the road and at her farm in Vernon, BC, she and her husband have been importing and breeding Icelandic horses since 1976. In addition to their Icelandic herd which numbers around 80, they also share their farm with two cats, three dogs and a very talented parrot named Frances. Robyn Hood
Upcoming Trainings/Workshops with Robyn Hood
Tellington TTouch® for Dogs
Tellington TTouch® for Dogs. in on 2022-03-31 thru 2022-06-21
Tellington TTouch® for Horses
Tellington TTouch for You and Your Horses intro with Robyn Hood. Starting April 5, 2022. (Europe). $350 US. Live Interactive Sessions with Robyn Hood, Schedule: Tuesdays:  April 5 -May 5, 10:00 AM to Noon PST; 6:00 PM to 8:00 PP (GMT) for LIVE zoom sessions for further guidance and discussion of course material. Between sessions you will take what you have learned and practice it with your own horses. Learn More: learn.ttouch.ca/product/tellington-ttouch-for-you-your-horse-intro-with-robyn-hood-march-2022-europe in on 2022-04-05 thru 2022-05-03
Tellington TTouch® for Dogs
Hands-On Tellington TTouch for Dogs with Robyn Hood – June 25-27. in Vernon, BC. $575. Instructor: Robyn Hood, Senior Tellington TTouch Instructor. Location: Coldstream, BC The Icelandic Horse Farm. Includes BONUS ONLINE COURSE. in Coldsream, BC on 2022-06-25 thru 2022-06-27
Tellington TTouch® for Horses
Tellington TTouch for Horses with Robyn Hood & Mandy Pretty – July 9-11 (or 13} (a 3 or 5 day option). $625 - $925. Location: Coldstream, BC The Icelandic Horse Farm. Includes BONUS ONLINE COURSE. in Coldsream, BC on 2022-07-09 thru 2022-07-11
Tellington TTouch® for You & Your Horse
Learn the innovative and empowering techniques and exercises that will take your relationship with your horse, to an all new level and transform the way you train horses and understand them. Whether you want guidance for improving performance, behavior, or are simply curious for a new perspective, Robyn will give you countless ways to understand, interact and influence your horse in the most wonderful ways.
[%include Links.Image(id=>"5281",class=>"floatright",caption=>"")%]
Beginning on November 25th join Robyn for your first interactive Zoom session from 10:00am to 12:00pm(PST) / 6:00 pm to 8:00 pm (GMT).
After that; join Robyn for LIVE Zoom sessions (20 Hours total) for further guidance and discussion of course material. Between sessions you will take what you have learned and practice it with your own horses. Take video for specific feedback to share in the next class so you can refine and improve your technique.
This course can count as 14 credits towards the Tellington TTouch Horse Practitioner certification program for horses. It is also a wonderful learning experience for ANYONE looking to enhance their life with horses.
in on 2022-11-25 thru 2023-01-22
Interactive & Online Tellington TTouch® for Dogs
$399.00 – $699.00
[%include Links.Image(id=>"5279",class=>"floatright",caption=>"Interactive Online with Robyn Hood")%]
Join Tellington TTouch Method Instructor, Robyn Hood as well as other guest instructors, and learn the next layer of TTouch skills!
Enjoy the logical, linear, learning of Online Learning along with the inspiring and adaptive format of 20 hours, small, LIVE, Zoom sessions.
This session can count as your next step towards Certification as a Tellington TTouch Practitioner for Dogs after completing a Level 1 course If you have attended in person "Hands On" Tellington TTouch Workshops, this course can be counted towards certification.
Register and gain access to an extensive, clearly laid out and detailed online course covering the material you would learn in at least two, 5 day hands on sessions. This course can be done at YOUR OWN PACE, before or after the LIVE sessions.
Beginning on November 26th, enjoy a 4 hour immersion sessions that will provide you with a new layer of detail and understanding, building on what you learned in Level 1, or at previous hands on trainings.
in on 2022-11-26 thru 2022-11-26
Interactive & Online Tellington TTouch for Dogs
[%include Links.Image(id=>"5283",class=>"floatleft",caption=>"")%] Live Zoom sessions start on January 19th 2022 from 10:00 am to 1:00 pm (PST) and continue on January 19th & 26th, February 3rd, 10th, 16th, 23rd and March 2nd and 9th.
Sessions are recorded and will have guest instructors presenting on specific topics. Skilled assistants will help during breakout room sessions and offer valuable insights and experience.
This course can count towards the Tellington TTouch Practitioner certification program for dogs. It is also suitable for dog guardians who are interested in the method to enhance their relationship. All levels of experience and areas of interest are welcome.
Students will have access to online material to cover at their own pace. The online portion of learning consists of a logical, linear, "Tellington TTouch for Dogs – Level 1", which can be accessed at any time.
in on 2023-01-19 thru 2023-03-09