Search Results
Your search for May returned 4 categories and 34 items
Items
Impact of TTouch® Pain Severity of Patients with Angina Pectoris
Sadegh Mahdavi Pour and Ali Akbar Vaezi
Introduction: Heart pain may cause change of vital signs, increasing of the heart oxygen need and increasing of mortality of patients with heart diseases. There are many on-medicinal methods for pain control, such as massage, and massage if continues by stimulating thick fibers and local provocation of endorphins prohibits pain transfer, so this study was conducted with the aim of determining the impact of frontal chest massage by the nurse on pain severity of men hospitalized patients.
Published in the World Journal of Pharmaceutical and Medical Research www.wjpmr.com
"Up until four years ago I did therapy visiting with my Golden Retriever in a residential home for the elderly. One of the ladies could not communicate with people using language; she had suffered a stroke and certainly had some dementia. This lady would hang around the neck of Jim (my Goldie) for as long as we would let her. Jim was very tolerant and would nudge this lady very gently.
"When this process had ended Jim would be totally exhausted and I would TTouch to help him recover. But the care workers always reported to me that for two days after Jim's visit this lady could interact with people more than she had been able to before our visit. What I found interesting was that this lady would recognize Jim but not me and she seemed to gain so much from the affection/touch shown by Jim towards her. This may be an example of how touch-starved ill people can be and the benefit that they can gain from simple touch. Good luck with exploring the research opportunities."
– Jeanette Atkinson, Practitioner in the UK
By Robin Bernhard LCSW, MED
The universality of Linda's methodology is unique to TTouch. Linda didn't have to develop different techniques to teach horses, whales, snakes, parrots, cats, dogs or humans. TTouch works for all species. Through touches that are universally understood, Linda and her students of TTouch, invite their animals to participate in harmonious mutual communication; cell to cell and heart to heart. In her book, Tellington TTouch, Linda states: "Instead of seeing the TTouch as something that I do to animals, which would create separation between us, I view the circles as a way to come into cellular harmony with them, a way of allowing my cells to speak to theirs. At a cellular level, no living thing is alien to any other, and so the sense of connections remains the same whether I'm working with a gerbil or a lynx, a kitten or an elephant." Both the practitioner and the animal benefit from the mutual communication.
Linda believes that the TTouch practitioner's intention for healing is communicated from the person to the animal (or person to person) on many levels. These intuitive ideas are now being scientifically documented by The Institute of HeartMath with new research about mind-body communication and the heart. Research at The Institute of HeartMath has shown that we can regulate heart rhythm coherence by holding positive feelings and intentions. Increased heart rhythm coherence produces more alpha brainwaves, enhanced awareness and improved cognitive performance. Alpha frequencies induce a state of tranquility, not unlike the tranquility experienced during TTouch, and interestingly, alpha brainwaves are associated with peak performance. The results of the research at the institute of HeartMath supports the hypothesis "that the changes in brain activity that occur during states of increased psychophysiological coherence lead to changes in the brain's information processing capabilities. Results suggest that by using heart-based interventions to self-generate coherent states, individuals can significantly enhance cognitive performance." It would be very interesting to see if TTouch enhances heart rhythm coherence. I suspect that it does.
The heart produces an energy field that can be measured for five feet in all directions. It is quite possible that all species are able to perceive influences from another being's heart from a short distance. When humans communicate and touch is involved, the brain registers the heartbeat of the other in the EEG, physiological evidence that we are influenced by another's heart rhythm chaos or coherence. Research has shown that horses are sensitive to the heart energy fields produced by humans and that humans are sensitive to the fields produced by the horse's heart. The practitioner of TTouch knows well the experience of peace that comes while engaged in the practice of TTouch. Scientific knowledge about the energetic communication from the heart suggests that TTouch practitioners are energetically engaging their animal partners at the deep level of the heart. When the TTouch practitioner consciously holds the intention of healing and a compassionate attitude to generate heart rate coherence within the self, the person or animal being touched benefits from the calming influence of the energy field created by the practitioner's heart. The research at the Institute of Heart Math suggests that the heart to heart engagement is reciprocal and thus, we have the beginnings of scientific documentation for the experience of healing intention, compassion, respect and positive regard that is part of TTouch practice.
There are more neurons running from the heart to the brain than from the brain to the heart. Some research suggests that the heart directs brain regulation and not the other way around. Linda has stressed the importance of holding a compassionate attitude coupled with the desire to support healing as the correct mind-set for the TTouch practitioner to allow the heart to influence the work. The research on the power of the heart from The Institute of HeartMath documents the scientific basis for what Linda understood intuitively about the heart's influence on TTouch outcome and the mutual benefit for the practitioner and the animal when the practitioner intentionally generates a genuinely positive heart felt connection between the self and the animal during a TTouch session.
On the other hand, forceful methods generate fear and impede "thinking" as the horse moves into its instinctual fight/flight survival mode. During fight/flight activation, thinking is shut-down in favor of split-second non-thinking reflexive reactions that the horse can't control. It is often in this fear driven state that horses can't meet the demands placed upon them, for which they are frequently punished and pushed further into fear, pain and freeze responses. Instinctual reactions may be activated through a dominating relationship, and animals can be managed through such training methods. TTouch does not elicit instinct driven behavior mediated by the limbic system, rather Linda seeks to calm the limbic system and stimulate learning that is mediated by the cortex through a relationship infused with a heart-felt connection.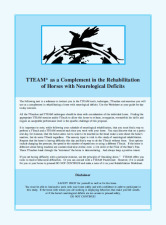 Useful techniques to help your horse recover from neurological deficits including EPM.
from $25.00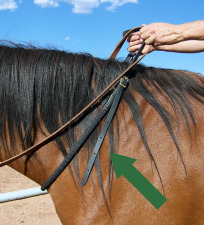 Good for horses who are above the bit, behind the vertical or strung-out. New lower price!
$55.95
TTEAM News International December, 1986 Vol 6 No 5 Pp. 3-5

One of the highlights of my October trip to Moscow was awarding the first Animal Ambassadors certificates. In Moscow a translation to Russian had been prepared so I took 100 blank certificates to have them printed in Russian, but the Club Healthy Family thought it would be nicer to receive them in English. Many of the same children who participated in the very first meeting for Animal Ambassadors International® attended the gathering. I had thought I would give certificates to all the children who had chosen their animals to protect, but the club adults felt they should have to earn them and are making a proposal for me to consider on my next trip.

We did agree, however, that two of the children there had earned them and the first certificate was given to the 10 year old boy who had chosen a type of tiny snail to protect. His sister received the second certificate, and interestingly enough had chosen horses as her animal.

I was so pleased to show the certificates to our American Ambassadors in Moscow, Arthur and Donne Hartman, who have followed the unfolding of the concept since the beginning. Ambassador Hartman was very pleased with the name Animal Ambassadors. He chose the fox as his animal (one of my totems, as those of you who have seen my fox ring know) and Donna Hartman chose the bear.

At the meeting I had with the Club Healthy Family one of the adults, who is a teacher, asked some important philosophical questions about animals. "What should a child do if they find a stray or injured animal on the street?" I was reluctant to give an answer without more thought so I answered that it was a question which needed consideration. On Friday afternoon I taped an answer to be translated for their club.

I find it always best for me to answer from a personal base of experience instead of from the theoretical. I often see stray animals on the streets and have no opportunity to take them with me. To turn away and ignore them would be a way of protecting my feelings of helplessness or sorrow, but I do not think that is a good idea. That kind of reaction tends to harden our hearts. I like to take some minutes of my time and sit and visit with them. It may mean momentary pain, but then that is a part of the path to appreciation of joy.

I have been greatly influenced by the philosophy of The Little Prince who advises that it is much better to have a friend and leave him than to never have experienced that connection. Khahil Gibran's chapter on Sorrow and Joy has influenced the past 25 years of my Life. As I remember it, "The self-same well from which your sorrow flows, will also flow your joy." When I read these words during a very challenging time in my life I was exhilarated. "Come on tears," thought I. "The more sorrow I experience, the deeper this well will some day be filled with joy."

I have not been disappointed. Realizing that an experience that may hold sadness can also nurture appreciation of Joy is a gift worth receiving.

The image of a small dog on a cold night in Tblisi, Georgia in the southern part of the USSR, often finds its way into my mind. I saw her huddled up on a piece of newspaper late one night as I was returning by foot to my hotel. I squatted an the deserted, windy street and visited for a long while, gently working on her ears, talking to her and doing the TTouch over her whole body to strengthen our connection and companionship. I wrestled with the possibility of taking her with me somehow, considered the difficulties of getting her veterinary papers through friends in Moscow and realized it was impossible for me to keep her since I am on the road constantly. I mentally flipped through the names of friends who might be willing to adopt a Russian animal ambassador.

The difficulties finally became too obvious and I resigned myself to simply enjoying our camaraderie. I think of her frequently and send her my love through thought-form. I can be as strong a connection as a physical touch, with practice.
NOTE: TTEAM is an acronym of "Tellington TTouch Equine Awareness Method." Since this article was written, Linda decided to use a brand name for all the facets of the TTouch organization. Currently, that is Tellington TTouch® Training.
TTEAM News International December, 1987 Vol 7 No 5 Pp. 5-6

I want to share some of my experiences of the last few weeks: introducing TTEAM to elementary school children. So far I've given four presentations - ranging in length from one hour to a week - to students in Grades 1 through 6. Forty-four children have earned Animal Ambassador Certificates. An additional estimated 200 have had hands-on experience doing Raccoon or Clouded Leopard circles on a horse.

Animal Ambassadors International® and TTEAM® were presented to the teachers as ends in themselves and as vehicles for learning empowerment. I wanted to demonstrate that TTEAM can be more than just an interesting sidelight to a school program. It can be a valuable adjunct to the program itself.

To that end the two week-long units that we did were by far the most productive. They gave us time to set specific goals and objectives that addressed both cognitive and effective modes. For example, last week I worked with Celeste Klmerico, who has charge of her school's Gifted-and-Talented and Remedial program. One of the really exciting things Celeste wanted to do was bring these two groups of kids together in a week-long Animal Ambassador unit. One purpose for doing this was to raise the prestige and confidence of the remedial group, to make it easier for them to leave their classrooms each day for "Special Ed." Meanwhile the kids at the other end of the spectrum would be gaining practice in sharing their skills and being supportive while everyone broadened their knowledge of animals and natural history through TTEAM and an imaginative search for a special animal to befriend, protect and learn more about.

Although with each program I realize how much I have to learn. I'm excited about the programs we are doing right now as well as possibilities and plans for the future. Out of the two week-long units a workable, flexible framework has evolved that include the following components.
Introduction to TTEAM, Animal Ambassadors International and the stuffed toy animals on which they will learn and practice the Tellington TTouch.
Live animal demonstration with Tehya, a horse, and Bud, a dog – both gentle, beautiful animals who are Ambassadors to the children from the whole vast Animal Kingdom.
An imaginary, guided tour with Linda aboard a winged horse throughout the animal habitats of the world, looking for a special animal to befriend and protect.
This journey begins at Monkey Mia, in Australia, swimming with dolphins. The children loved making the sound of dolphin-breathing. They journey to the California coast, where sea otters spend almost their entire lives in the surf, rocking to the music of the waves.

On the beach they meet the winged horse, first as a toy animal with wings shaped like hands; with their TTouch it becomes the magical, gentle horse who carries them to Africa, to Australia and eventually back to North America.

The drawings from my coloring book are used to give framework and focus to the imagery. Last week I ended the journey with a recording of wolf howls.

Then everyone rises from their chairs and joins hands in a Friendship Circle while they choose an animal to befriend and protect.

Back to the left-brain mode. Over-night I have drawn a picture of each child's animal. This is not as difficult as it

may

sound because many children choose the same animal. Last week we had four eagles. The children use library books to research their animal's color, plus several interesting facts about the animal, which they will write down. They'll also color the animal.
Children who complete the research

may

wish to write a poem about or for their animal.
Validation: Children read their presentations before their classmates and are awarded their Certificates.
It is necessary to remember that this program must be flexible in order to meet the needs of the children with a wide range of abilities. For example, last week we had a gifted first grader, at least one hyperactive older child who usually can best be reached only on a one-to-one basis and a gifted eighth grader who chose to design her own project based on the TTEAM newsletter.

In evaluating the children's responses it is important to point out that most of the children we've worked with so far have been in remedial programs. The hyperactive children are tremendously exciting and challenging. They'll wear you out, but when a hyperactive child sits still for an hour - working on his project - you know your program has got to have some strength.

I have spent a lot of time thinking about ways in which a TTEAM-Animal Ambassador program, with additional components of art and guided imagery, can be used in a whole-brain learning approach. A lot of credit must be given to teachers and teachers' aids, who know how to make the most of a program like this. I have learned so such from the teachers!

Every program we've done so far has served as a springboard for further activity, some initiated by the children themselves. Anne Gahley's remedial classes began asking for more animal books to read, an indication that we provided incentive to nonreaders. One child elected to redo her project. Ms. McCathryn's 'Introduction to TTEAM' was the start of a month-long Animal Unit for Second Graders. Dorabeth Adams plans to use our poetry writing venture as a start to help the children develop vocabulary and imagination in creative writing. Some of Celeste Almerico's students may bring their pets to school to give a TTEAM demonstration for the other children. Her 8th grade is working on a special project to send to Linda.

I believe the program is powered, to a great extent, by the live animal demonstration. The children appear to be positively affected by the presence of the horse. Perhaps they are awed by the horse's size. They press close to the rails of the portable corral, watching the TTouch being done on the horse. They are quick to notice the horse's every reaction. When their turn comes to enter the corral, one at a time, their eyes are shining with pride and anticipation. I am amazed and delighted at how much they have learned working with the stuffed toy animals, and at how well they remember the names of the different TTouches.

When they got to the dog there is sudden laughter. They have invented a new name: Lick of the Dog's Tongue.

I would like to conclude with a poem written by an eight year old girl on behalf of' her animal, the elephant.

Freedom
Is a gray elephant
Eating in the jungle.

Happiness
is a burnt umber elephant
With her calf in the rain forest.

Sadness
Is a brown elephant
Asleep In the zoo.

NOTE: TTEAM is an acronym of "Tellington TTouch Equine Awareness Method." Since this article was written, Linda decided to use a brand name for all the facets of the TTouch organization. Currently, that is Tellington TTouch® Training.
TTEAM News International Back Issues, 1990 Pp. 91-92

TTEAM Practitioner and Educator Erika Hull works with a class of Developmentally Delayed students (ages 12 -21) in Bracebridge, Ontario. She has taken a number of week-long TTEAM Trainings with Linda Tellington-Jones and Robyn Hood. She also owns and rides two horses and has a dog and two cats.

About eight years ago, first used the Tellington TTouch on one student who was totally out of control - the student was screaming and could not sit or stand. In "self defense" Erika did a few light-pressured Clouded Leopard circles and the screaming eased while Erika was doing the circles. Since that time, the use of TTouch in her classroom has become, in her words, "a way of being" that is integrated into the rest of her teaching. However, with some students, she may spend a little more time to deal with specific problems.

In January, 1990 I visited Erika to observe, video, and write about some of these special cases, so that they could be shared at the first Tellington TTouch Workshop for Humans held at Esalen Institute in February 1990.

David (not his real name)

He came to Erika's class at the age of 12 years suffering from Cerebral Palsy. At that time, he was violent and disruptive. He had no friends, did not talk, did no work, and had to wear diapers. His head moved constantly, he could not see anything, and was unable to focus. Go could not straighten his arms, and they were always on his chest. He was unable to feel heat, cold or pain.

Erika told him that if he wanted to remain in her classroom, he had to be smart like everyone else, and that his brain was the boss. She began TTouch by working on his arms and hands with the Clouded Leopard, doing Noah's March down both arms, and telling him that he had a telephone connection from the brain to his fingers. This was the "beginning of a new life" as Erika puts it, "he began to get an idea of where his body was."

Two years ago, a hamstring operation was done and his legs were in full casts (from the hip to the toes). His mother was told by the doctors that he would never have sensation or movement in the toes. Erika did Clouded Leopard and Raccoon circles on his toes, working on him for about 20 minutes each day for six weeks while he was in the casts. After the casts were removed, she did circles over the feet and legs. To help him stand, she put his feet in high ski boots. She used the wand to direct the brain signal from the head to the foot, and he is now able to wiggle his toes. He is also able to stand without the ski boots and instead of 100% of his weight on the heels, it's now 60% on the heels and 40% on the toes. He is now able to walk without assistance. By doing TTouch down the outside of the leg David is beginning to be able to turn his feet straighter (instead of out), and is able to walk backwards.

To assist David with his writing and improve his eyesight, Erika did TTouch circles on David's temples. He has learned his letters and numbers, and is now able to write them. He has become very social, has many friends, and can have a sensible conversation with people. He can dress himself, is able to use a urinal, and doesn't wear diapers any more. During the TTouch work, a great deal of emphasis was placed on breathing - because the breathing helps to "unfreeze the neural impulses that direct the muscles". Erika says that David is now one of her host students.

Tara
She has been in Erika'a Class for 1 & 1/2 years. It the beginning she had no speech, and had so little strength or balance that she was unable to got on the school bus. Her speech problem was related to an inability to take air into the lungs. She was unable to rotate her spine, which interfered with her washroom activities . TTouch was done on her feet and legs to improve their strength and she is now able to get on a ladder.

When first TTouched on the back, four months ago, Tara gasped, due to extreme sensitivity probably caused by inflammation of nerve endings. Very light Python Lifts and Raccoon touches were done all over her back to help improve her breathing and enable her to rotate her spine. Tara can now be TTouched all over her back with the Abalone without feeling any discomfort and can use the washroom. Her parents are very pleased with the changes in her.

Bill
Bill was expelled from every school and every school bus due to violent behavior. (e.g. throwing a VCR through the window). His Ontario Student Record is 1" thick with incidents. He was placed in Erika's class in November 89. At the beginning, Erika did not use the TTouch on him, but she used the TTEAM Philosophy of offering alternatives instead of force, as she had learned in TTEAM horse clinic. Whenever force, (in the form of coercion) had been used with Bill, he had exploded (as some horses will). When offered alternatives, he began to be able to cope.

More recently (March, 90) Erika began doing the Python and Butterfly on his arms and hands (his hand would shake,, and he had difficulty writing. She also used Tarantulas Pulling the Plow and Lick of the Cow's Tongue on his back; sometimes she only does Noah's March. If Bill receives some TTouch twice a day, his behavior is acceptable, and he is beginning to be helpful with other students. It seems that Bill possibly suffers from the opposite of tactile defensiveness - he becomes sick if he is not TTouched. When he first came to the class, he could not use the computer with his hands, but would use his nose instead. In March, he began to use the computer with his hands. When the TTouch is done on his arm and hand, he will write. He was not able to do this six months ago.

Erika continues to integrate the TTEAM philosophy and TTouching her students. She has also maintained a delightful sense of humor as she works in situations which can be stressful.

NOTE: TTEAM is an acronym of "Tellington TTouch Equine Awareness Method." Since this article was written, Linda decided to use a brand name for all the facets of the TTouch organization. Currently, that is Tellington TTouch.