Search Results
Your search for maryse returned 0 categories and 2 items
Items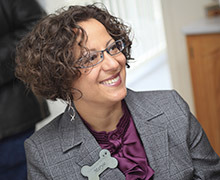 As long as she can remember, Maryse, was always fascinated by the oneness of life and nature. As a child, following her father's teachings, she would wander in silence in the forest, in a sort of meditative state, ''listening to the sound of life'' as her father and grandfather would say. She became fascinated by interspecies bonds and relationships, including the human and companion animal bond.

What always piqued her interest was trying to understand the other and trying to establish a bond of trust without using words. As a result of this, she would unexpectedly find herself being touched by vivid emotions forming relationships that are sometimes so simple and sometimes very complex.

Later, two events brought TTouch on her path. Her dog was diagnosed with Addison's disease, and she met with Lucie Leclerc, who was then a TTouch practitioner and assistant. These life events gave her the curiosity and interest to learn more about TTouch and it ended up completely changing her life path and career goals.

She continued her TTouch training until she became a TTouch practitioner. Up until this point, she had received her degrees in Geology and Communication but was also working, in her spare time, as a dog trainer using positive reinforcement and as an animal-assisted activities practitioner and teacher.

From then on, she dedicated her life to teaching TTouch to numerous groups of people with different backgrounds within the animal field like groomers, shelter employees, dog trainers, and animal-assisted activities practitioners, for example. She was also an active mentor to both French and English-speaking students.

She wrote articles in French for blogs, also translating numerous documents and training, and teaching online classes as well.

In her desire to better understand the TTouch method and develop her self-awareness abilities, she went on to explore the world of somatic education. She amongst other methods, explored Tai Chi, Qi Gong, Karate, the Feldenkrais Method… She ended up earning a degree in the field and now also teaches voice guided somatic work inspired by Moshe Feldenkrais in Québec, Canada.

That work, along with the TTouch work, influenced and changed the way she teaches animal-assisted activities/therapy work. She has worked with dogs, rabbits and other small animals from shelters and helping them manage their stress, anxiety and nervousness has been a growing passion from the very beginning.

As a companion animal Tellington TTouch instructor, Maryse, sees again and again how animals, like humans, possess the resources that allow them to express their full potential and their relational skills.

She is proud to partake in the changes humans are putting forward in order to collaborate and to create authentic, supportive, and respectful alliances with their pets.

For more information about Maryse, visit her website www.essenceetalliances.com or contact her directly at ttouchquebec@gmail.com.